Firstly because in November this movie will be out!!!
Yes, I'm well aware that I am a Twilight freak, I sure there are plenty of us out there.
Secondly, I'm squealing again.......
Lantern Bloom by
Laura Gunn
This line of fabric is amazing, and well, just gorgeous and guess who has got some coming from America? I am so excited, these fabrics are hot off the press and I can't believe I found someone who is selling it already.
And his is what I am using the fabrics for.....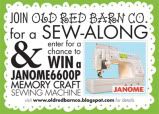 She is already up to week 3, but she is laying it all out for a beginner, so once my fabric is here I'll be up to date in no time.
Don't forget to scroll down and comment on my Sewn giveaway, it will be drawn on the 9th June.